EXTERIOR CLEANING AND POWER WASHINGfor Washington DC, Baltimore, Annapolis, Columbia, Hunt Valley, Reisterstown, Frederick, Bowie, Bel Air, and the surrounding areas
Keep your home or business in Baltimore and surrounding areas clean with exterior cleaning services from our team at Hydro-Serv.
Whether you need graffiti removed from the exterior of your storefront or you want to refresh the concrete walkways around your home, our pressure-washing services can handle it all. We have over three decades of experience cleaning buildings, homes, driveways, decks, fences, and more. We offer to bring our own water to the site to service homes on well systems and to provide services to locations without a water supply.
Our power washing services include:
Our technicians can also handle your HVAC cleaning and inspection needs, including blower door testing, duct leakage testing, duct blast testing, commercial coil cleaning, filter maintenance, and more.
Exterior Cleaning Services in Bowie, Bel Air, and Surrounding Areas
The exterior of your home or business collects dirt and debris over time, while Maryland's humidity nurtures mold and mildew growth on windows and siding. Our exterior cleaning team at Hydro-Serv can restore your home's or commercial building's exterior through pressure washing. Home and business owners in Baltimore, Annapolis, Columbia, and surrounding areas trust Hydro-Serv for top-quality, no-hassle power washing services.
Residential Pressure Washing in Annapolis, Columbia, Frederick, and Nearby Communities
Homes with years of built-up dirt and mildew lose value and curb appeal, but professional power washing can restore any home to its former glory. Rediscover the beauty of your home with our residential pressure washing by Hydro-Serv.
Our reliable technicians will provide a fair quote and expert service. Our team understands the specific needs of various exterior surfaces and the proper water pressure to clean effectively without causing damage. We offer high-pressure cleaning and exterior soft washing to provide each home with the proper techniques for a superb cleaning.
For Residential and Commercial Pressure Washing Services in Hunt Valley, Bowie, Frederick, and surrounding areas.
Commercial Pressure Washing in Hunt Valley, Reisterstown, and Surrounding Areas
Your commercial building's exterior often serves as a customer's first impression. A clean, tidy office or storefront can boost their confidence in your business. Consumers who encounter clean buildings with polished windows and bright concrete are more likely to return, providing you with reliable repeat business.
If your business's exterior needs a refresh, trust your commercial pressure washing to us at Hydro-Serv. Our experienced power washing technicians provide detailed exterior cleaning services in Reisterstown, Bel Air, and communities in the Baltimore Metro Area.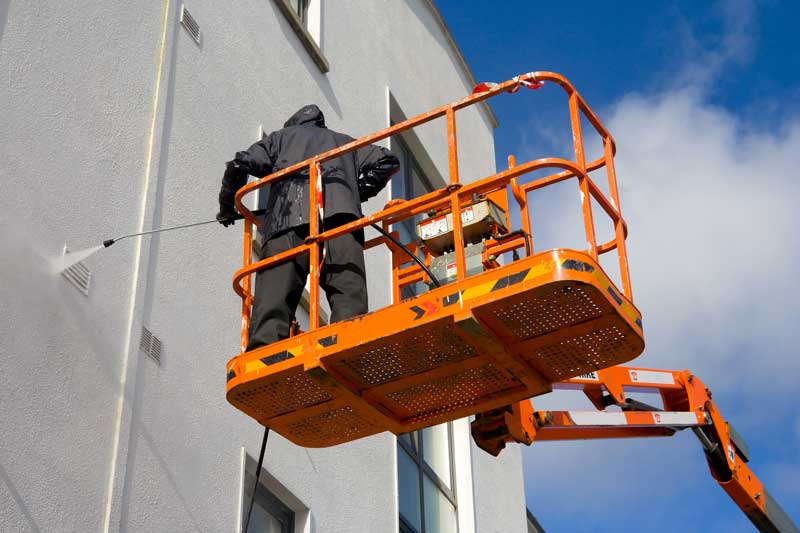 With Hydro-Serv, you can rely on the following:
Hydro-Serv proudly offers professional air duct cleaning, HVAC inspections, HVAC cleaning, filter maintenance, pressure washing, exterior cleaning, and more in Baltimore, Annapolis, Columbia, Hunt Valley, Reisterstown, Frederick, Bowie, Bel Air, and the surrounding areas of Maryland.
Contact Us Today to Schedule an Appointment
Need Air Duct Cleaning or Exterior Cleaning?